{ let productFormContainer = $el.getBoundingClientRect().top + $el.clientHeight if(productFormContainer < 0) { $refs.stickyContainer.classList.add('active'); } else { $refs.stickyContainer.classList.remove('active') } })()">
Autumn Lawn Feed 10.5kg, 200m2 coverage
Incl. VAT; free
shipping
on orders over £39
Effective & sustainable

Environmentally-friendly packaging
Free shipping over £39

Built with love
Frequently bought together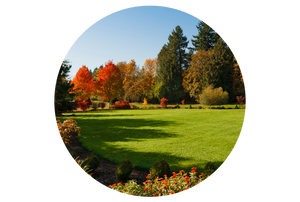 How does Plantura Autumn Lawn Feed support a robust and winter-hardy lawn?
Our grass feed has the optimal nutrient balance for your lawn so that it can survive the cold season: the extra portion of potassium in our autumn fertiliser ensures maximum winter protection and helps prevent frost damage. Our fertiliser also contains a small amount of nitrogen that is slowly released into the soil throughout the season - for a quick regeneration in spring. On top of that, 3.5% sulphur and 1.8% sodium prevent common deficiency symptoms such as yellow patches.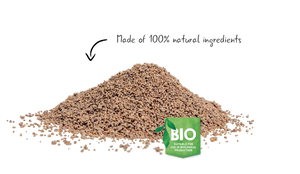 For maximum winter protection: what is the autumn lawn fertiliser made of?
Plantura Autumn Lawn Feed is made of 100% natural ingredients. It is free from animal products such as bone meal or manure, so it is vegan. The winter lawn fertiliser contains soybean and grapeseed oil meal, cocoa shells and wheat gluten flour as well as vinasse. Our fertiliser with a long-lasting effect is exclusively composed of raw materials that are suitable for use in biological production (EC No. 889/2008).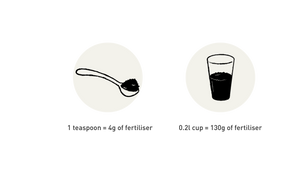 How much fertiliser does my lawn need in autumn?
One dose of our Plantura Autumn Lawn Feed between July and October is all you need to prepare your lawn for the chilly winter months. We recommend applying 50 to 80 grams of fertiliser per square metre. The low-dust fertiliser granules can be applied with the dispenser on the side of the box, by hand or with the aid of a spreader. You can find the settings for the most common spreaders on the fertiliser packaging.
Why Plantura
We are a growing company based in Munich committed to bringing you effective and sustainable products. We stand for:
Customer centricity

High-quality products

Transparent sustainability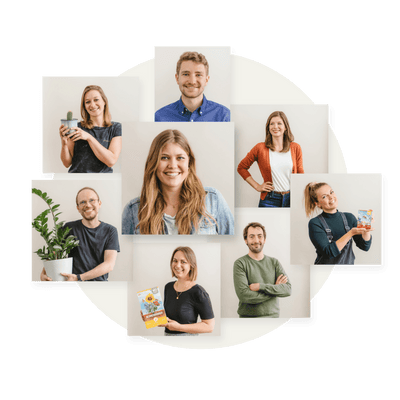 Frequently asked questions
First, mow your lawn to a height of 5 to 6cm. Apply the fertiliser granules evenly over your lawn using 50 to 80 grams per square metre. The higher quantity is recommended for ornamental lawns, lawns that are heavily distressed, or in regions with harsh winters. For best results, water your lawn after applying the autumn lawn fertiliser.
Plantura Autumn Lawn Feed has an NPK ratio of 4-1-9 - perfect to get your lawn through the cold winter months. On top of that, our fertiliser supports and stimulates soil life.
Our autumn lawn fertiliser has a long-lasting effect: the nutrients are released slowly and gently to the lawn over a period of 3 months. This ensures a particularly steady and sustainable nutrient supply. For the next fertilisation in spring, we recommend using our Plantura Lawn Feed.
Yes, our autumn lawn fertiliser is pet-friendly. Your dogs, cats and other animals can continue to roam around the garden straight after application. Nevertheless, you should store the fertiliser safely, away from children and pets.
It is best to store the product in a cool, dry place and away from direct sunlight. Opened packages should be closed tightly and be kept out of reach of pets and children. If stored properly, our autumn lawn fertiliser has an unlimited shelf life.
82%
would recommend this product
Total 5 star reviews: 8
Total 4 star reviews: 1
Total 3 star reviews: 1
Total 2 star reviews: 0
Total 1 star reviews: 1
Autumn lawn feed

Really pleased to see our grass look thicker and greener after just two weeks.

Fast delivery and good customer service

Excellent product and service

I do not recommend this product

Disappointed

Another item that never arrived so can't comment. Annoyed both items ordered were never received

PU

Plantura UK

November 8, 2022

Dear gardening friend,

thank you very much for your feedback.

I looked into your delivery and am sorry to inform you that there was a problem with your delivery. Your delivery didn't leave the parcel center, probably due to damage. To resolve the problem and fulfill your order, I already coordinated a new delivery and also contacted you via email.

Thank you for your patience.

Greetings from Munich,
Finnja from Plantura

Elizabeth B.

Verified Buyer

Hope it works on my lawn.

Used the autumn feed.To early to say if it is any good.I ordered to bags of feed. Received only

one bag .I thought the other bag would be delivered later. I received back into my account money for the second bag. No explanation. Poor customer service.

Autumn lawn feed

Delivery was quick. Have put first amount down on lawn so waiting to see the improvement.
Reviews Loaded
Reviews Added