{ let productFormContainer = $el.getBoundingClientRect().top + $el.clientHeight if(productFormContainer < 0) { $refs.stickyContainer.classList.add('active'); } else { $refs.stickyContainer.classList.remove('active') } })()">
Effective & sustainable

Environmentally-friendly packaging
Free shipping over £39

Built with love
Frequently bought together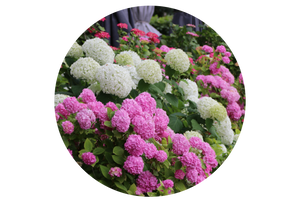 How does our hydrangea feed support strong and beautiful hydrangeas?
Hydrangeas need a lot of nutrients - especially nitrogen (N) and potassium (K). Our Plantura Hydrangea Food has an NPK ratio of 5-2-8,5+2 MgO + Fe, so it is perfect for the nutrient-hungry plants. The fertiliser also contains 2% magnesium and 1% iron which support lush, green foliage and help to prevent common deficiency symptoms. The high content of organic matter also promotes healthy soil life for optimal growing conditions.
What is Plantura Hydrangea Food made of?
Our hydrangea fertiliser contains 100% natural ingredients and is made exclusively of raw materials that are suitable for use in biological production (EC No. 889/2008): soybean oil meal, wheat gluten flour, vinasse, cocoa shells as well as the minerals kieserite, iron sulphate and rock phosphate. On top of that, Plantura Hydrangea Food is free from animal products (such as manure or bone meal) and thus vegan.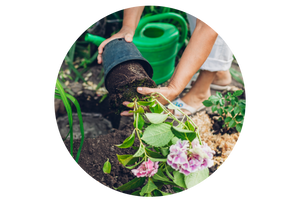 What other care measures are important for hydrangeas?
Hydrangeas are not only picky when it comes to fertiliser: they also require special potting compost. The plants need soil with a low pH value (acidic soil) for strong and healthy growth without any deficiencies. For ericaceous plants such as hydrangeas, rhododendrons and blueberries, it is best to use a specially adapted ericaceous compost, like our
Plantura Organic Ericaceous Compost
, that can meet all of the acid-loving plants' needs.
Why Plantura
We are a growing company based in Munich committed to bringing you effective and sustainable products. We stand for:
Customer centricity

High-quality products

Transparent sustainability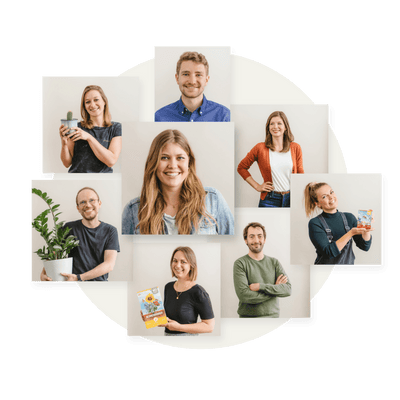 Frequently asked questions
The right amount of fertiliser depends on two factors: whether your hydrangeas are growing in pots or in garden beds and whether you want to plant new hydrangeas or feed established ones. You can find the recommended dosages on the side of the packaging. Thanks to the practical dispenser on the side of the box, our Hydrangea Food is especially easy to apply.
First, apply the recommended amount of hydrangea fertiliser around the plant. To help improve the effect of the fertiliser and stimulate soil life, work the granules lightly into the soil. After fertilising, water the plants thoroughly. This helps the soil organisms to break down the granules and to make the fertiliser's nutrients available for the plants.
Our hydrangea fertiliser has been specially developed for the nutrient requirements of hydrangeas. Plantura Hydrangea Food is suitable for H. macrophylla, H. arborescens, H. serrata, H. petiolaris, H. paniculata and many other types of hydrangeas. You can also feed other ericaceous plants with this plant feed.
Providing a steady supply of nutrients, our hydrangea fertiliser has a long-lasting effect for up to 3 months. This means that the nutrients are continuously released to the plants over a longer period of time - and 1 or 2 fertiliser applications per year is plenty for your plants.
Yes, our hydrangea fertiliser is pet-friendly. There is no waiting period after fertilisation - your four-legged friends can go right back to playing in the garden. However, make sure to store the fertiliser in a location that is inaccessible to children and pets.
No, Plantura Hydrangea Food cannot colour hydrangeas blue. Our fertiliser does not contain the aluminium-based alum needed to turn the plants the desired colour. Aluminium-based alum is not suitable for organic farming which is why we do not use it in our product.
The fertiliser should be stored in a cool, dry place and away from direct sunlight. Once opened, close the box well and keep it in a place out of reach of children and pets. Our fertiliser has no expiration date if stored correctly.
100%
would recommend this product
Total 5 star reviews: 4
Total 4 star reviews: 0
Total 3 star reviews: 0
Total 2 star reviews: 0
Total 1 star reviews: 0
Kolosowski 2006

Excellent all ready see the difference.

Hydrangea or rhododendron

I hope it helps the yellowing leaves of my rhododendron.

I see an uplift

Using this late in the season but already an uplift

Recommend!

My hydrangeas really picked up since using this fertilizer. I like that it has natural ingredients and is free from animal products. Will certainly continue to use!
Reviews Loaded
Reviews Added