{ let productFormContainer = $el.getBoundingClientRect().top + $el.clientHeight if(productFormContainer < 0) { $refs.stickyContainer.classList.add('active'); } else { $refs.stickyContainer.classList.remove('active') } })()">
Rose Food, 1.5kg
Incl. VAT; free
shipping
on orders over £39
Effective & sustainable

Environmentally-friendly packaging
Free shipping over £39

Built with love
Frequently bought together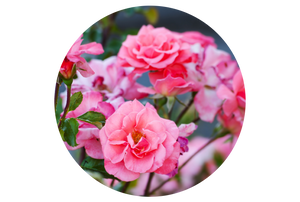 How does Plantura Rose Food support healthy and beautiful roses?
Roses require a lot of energy to develop their magnificent flowers. With an NPK ratio of 5-2-8.5 + 2 MgO, our fertiliser provides your roses with all the nutrients they need for strong and healthy growth while promoting healthy soil life. Plantura Rose Food also contains 2% magnesium and 4.2% sulphur which helps to prevent deficiency symptoms. On top of that, our rose fertiliser supports maximum resistance to pests, diseases and frost.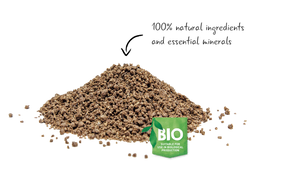 For beautiful blossoms: what is the rose fertiliser made of?
Our Plantura Rose Food contains 100% natural and animal-free ingredients. The fertiliser is made of soybean oil meal, cocoa shells, vinasse, wheat gluten flour as well as the minerals kieserite and rock phosphate. Our rose fertiliser is free from animal products such as manure or slaughterhouse waste and is therefore vegan. All our fertiliser's ingredients are suitable for use in biological production (EC No. 889/2008).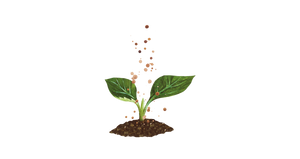 How much fertiliser do my roses need?
This depends on whether you want to plant new roses or feed established roses. You can find the recommended fertiliser amounts on our product packaging. In general, roses should be supplied with nutrients twice a year (once in spring and once in summer). Our Plantura Rose Food has a long-lasting effect for up to 3 months, which is why two fertiliser applications per year is all your roses need.
Why Plantura
We are a growing company based in Munich committed to bringing you effective and sustainable products. We stand for:
Customer centricity

High-quality products

Transparent sustainability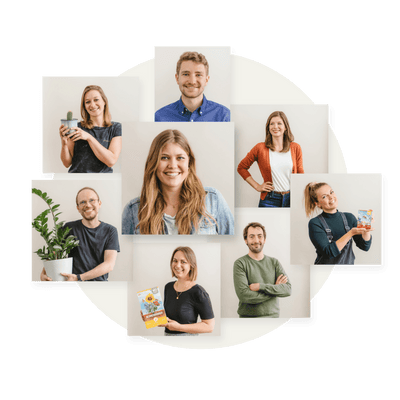 Frequently asked questions
Apply the instructed amount of rose fertiliser around the plant. Thanks to the dispenser on the side of the box, our Rose Food is particularly easy to apply. For best results, work the fertiliser granules into the soil and water afterwards. This helps to activate soil life.
Our fertiliser has been specially designed to feed all types of roses with an NPK ratio of 5-2-8.5 - additionally, it contains 2% magnesium. Plantura Rose Food is ideal for hybrid tea roses, bush roses, shrub roses, miniature roses, climbing roses and many more. Furthermore, our rose fertiliser can be used on flowering shrubs such as lilacs, rhododendron or crabapples.
Plantura Rose Food has a long-lasting effect for up to 3 months. The nutrients are released slowly over a longer period of time - for a steady nutrient supply.
Yes, our rose feed is pet-friendly and there is no waiting period necessary before they can go play in the garden again. You should still, of course, store the fertiliser out of reach of children and pets.
If stored properly, our rose fertiliser has an unlimited shelf life. Close opened packages well and store the product in a cool, dry place and away from sunlight. Make sure to place the fertiliser in a location that is out of reach of children and pets.
100%
would recommend this product
Total 5 star reviews: 1
Total 4 star reviews: 0
Total 3 star reviews: 0
Total 2 star reviews: 0
Total 1 star reviews: 0
Beautiful roses and nice shiny leaves

This fertiliser has done wonders for my plants - they have put on many blossoms and look healthier in general. It will last a while too as it doesn't take much and is a slow-release type.
Reviews Loaded
Reviews Added