{ let productFormContainer = $el.getBoundingClientRect().top + $el.clientHeight if(productFormContainer < 0) { $refs.stickyContainer.classList.add('active'); } else { $refs.stickyContainer.classList.remove('active') } })()">
Effective & sustainable

Environmentally-friendly packaging
Free shipping over £39

Built with love
Frequently bought together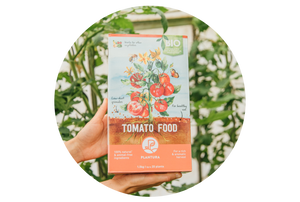 How does our tomato fertiliser support a rich and aromatic harvest?
Our Tomato Food perfectly meets the particular nutrient requirements of vegetable plants. With an NPK ratio of 4-3-8+2 MgO, it has the high potassium content needed to support fruit production and an abundant and aromatic vegetable harvest. On top of that, the fertiliser helps to prevent common deficiency symptoms and diseases that tomatoes tend to suffer from.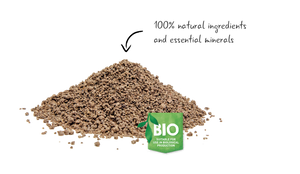 For a delicious vegetable harvest: what is the tomato feed made of?
Our Tomato Food contains 100% natural ingredients. It is made of soybean oil meal, cocoa shells, vinasse as well as the minerals rock phosphate and kieserite. Our vegetable fertiliser is animal-free/vegan, so it contains no animal products such as manure or bone meal. All of the fertiliser's raw materials are suitable for use in biological production (EC No. 889/2008).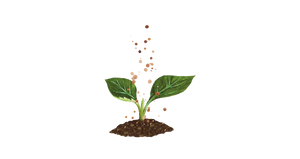 How much fertiliser do my vegetables need?
Different vegetables require different amounts of fertiliser. You can find dosing quantities for various vegetables like tomatoes, cucumbers, courgettes, or potatoes on the packaging. It is best to feed your vegetable plants twice per season: once in spring and once in summer. With our plant-based tomato feed it is almost impossible to overfertilise your plants. Nevertheless, you should follow the recommended fertiliser amounts.
Why Plantura
We are a growing company based in Munich committed to bringing you effective and sustainable products. We stand for:
Customer centricity

High-quality products

Transparent sustainability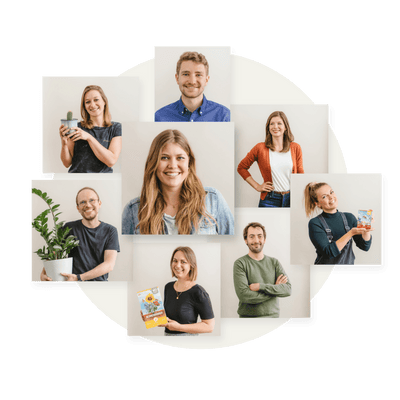 Frequently asked questions
First, apply the advised amount of our tomato fertiliser around the plant. For optimal results, work the granules into soil around the vegetable plant and then water both the plant and the soil well. This helps soil organisms to break down the granules and release nutrients for the plants.
Yes, our Tomato Food can also be used for growing vegetables in pots. For an easier application, however, we recommend our Plantura Liquid Tomato Food. Our liquid fertiliser is applied when watering - a quick and easy way to supply your vegetables with nutrients.
Our tomato feed also has a long-lasting effect for up to 3 months, ensuring a continuous supply of nutrients for your plants. This means that you only need to apply fertiliser twice per season.
Yes, our Tomato Food is pet-friendly and safe for households with animals. Your furry friends can roam around the garden again straight after applying our plant-based fertiliser. Nevertheless, make sure to store the fertiliser out of reach of children and pets.
It is best to store the fertiliser in a cool and dry place, away from direct sunlight and out of reach of children and pets. Opened boxes should be closed carefully. If stored properly, our tomato feed has no expiration date.
100%
would recommend this product
Total 5 star reviews: 1
Total 4 star reviews: 0
Total 3 star reviews: 0
Total 2 star reviews: 0
Total 1 star reviews: 0
My veggies are growing

Used this for my veg plants and I already see good growth. Last year I used a liquid version but this is longer lasting and less messy. And for me it was important to have organic and animal-free ingredients.
Reviews Loaded
Reviews Added