{ let productFormContainer = $el.getBoundingClientRect().top + $el.clientHeight if(productFormContainer < 0) { $refs.stickyContainer.classList.add('active'); } else { $refs.stickyContainer.classList.remove('active') } })()">
Lawn Feed 3kg, 70m2 coverage
Effective & sustainable

Environmentally-friendly packaging
Free shipping over £39

Built with love
Frequently bought together
How does Plantura Lawn Feed support a healthy and lush green lawn?
Only a lawn that is enriched with the right nutrients can compete well against weeds and moss, to form that ideal dense lawn. With its balanced nutrient composition and an NPK ratio of 6-1-6+2 MgO, our grass fertiliser can make your lawn dreams come true. The high nitrogen (N) content promotes strong and healthy growth, while 2.2% sulphur and 1.2% sodium support lush green grass seedlings.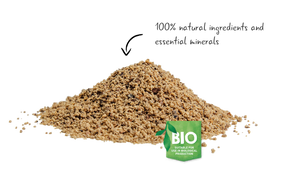 What is the grass fertiliser made of?
Our Plantura Lawn Feed contains 100% natural ingredients as well as essential minerals. It is made of wheat gluten flour, soybean oil meal, cocoa shells, vinase as well as limestone. Our grass feed is free from animal products such as bone meal or manure, making it animal-free/vegan. For our lawn fertiliser we only use raw materials that are suitable for use in biological production (EC No. 889/2008).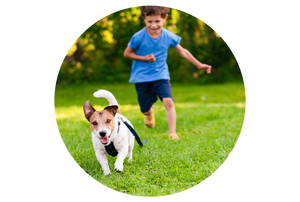 For a lush green lawn: what makes a good lawn fertiliser?
A good lawn feed consists of natural and animal-free ingredients. This is important so that you, your children and pets can get back on the lawn immediately after fertilising. For best results, make sure to water your lawn well after application. This makes it easier for the fertiliser granules to be broken down by the microorganisms in the soil which releases the grass feed's nutrients to the plants.
Why Plantura
We are a growing company based in Munich committed to bringing you effective and sustainable products. We stand for:
Customer centricity

High-quality products

Transparent sustainability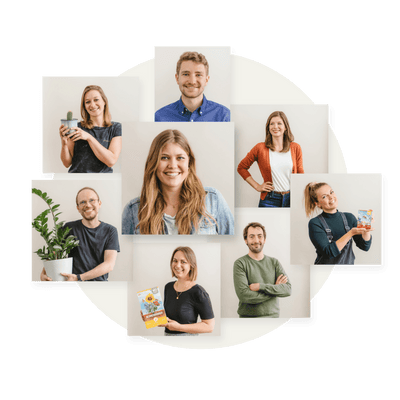 Frequently asked questions
The low-dust fertiliser granules can be applied by hand, with the dispenser on the side of the box, or with the aid of a spreader. You can find the individual settings for different spreaders on the packaging of our lawn fertiliser. It is important to water the lawn straight after applying fertiliser. Alternatively, you can feed your lawn on a rainy day. This is necessary so that the high organic matter content can be broken down by the microorganisms in the soil and made available for the lawn.
Our Lawn Feed can be used for different purposes. On the packaging you can find a table that provides you with detailed information about the different types of application and when they should be carried out as well as the recommended amounts of fertiliser.
In contrast to conventional, mineral fertilisers, plant-based fertilisers need to first be broken down by microorganisms (the tiny inhabitants that make up a soil ecosystem). Only after that are the nutrients available to the lawn. This process requires sufficient water (don't forget to water regularly!) and also a bit of time. Our grass feed may not have the same instant effect that chemical alternatives do, but it has a steadier, longer-lasting and more sustainable effect. Our fertiliser also helps build up humus and improves the soil's water-holding capacity - essential for your lawn to be able to withstand periods of heat.
Yes, our lawn fertiliser is made of natural ingredients and is pet-friendly: dogs, cats and other animals can eat the grass without any problems, even after fertilisation. However, there are other brands of fertiliser that may not be harmless. Fertilisers should therefore always be stored safely, out of reach of children and pets.
You can store our grass feed for an unlimited amount of time. Make sure, however, that it is stored in a cool, dry place and away from direct sunlight. A cellar or garage, for example, is the perfect place for the lawn fertiliser. Make sure to keep the product out of reach of children and pets.
Yes, you can use our Lawn Feed on turf without any problems. The lawn fertiliser is also suitable for robot-mowed lawns.
Unlike many mineral fertilisers, our Plantura Lawn Feed is particularly gentle and releases its nutrients gradually over a longer period. This is beneficial for your lawn as it prevents burns and ensures healthy soil. It also means you can use our lawn fertiliser directly before sowing lawn seeds and on freshly laid lawns. Take a look at our premium lawn seed here.
Because of the mildness of our plant-based fertiliser and its long-lasting effect, there is no risk of over-fertilising or scorching your lawn. Nevertheless, you should not exceed the maximum recommended dosage. If your lawn looks distressed, it is better to apply a second round of fertiliser after about 6 to 8 weeks. If your lawn is patchy, it may be worth trying our Plantura Lawn Overseeding Mix.
100%
would recommend this product
Total 5 star reviews: 1
Total 4 star reviews: 0
Total 3 star reviews: 0
Total 2 star reviews: 0
Total 1 star reviews: 0
Lawn Feed

Does what is required, now patience

The perfect 'Green' answer

My lawn has went from drought affected brown patches to brilliant'Green' healthy grass.

There are a few small areas left which I will reseed with new mix I have ordered from Plantura.
Reviews Loaded
Reviews Added