{ let productFormContainer = $el.getBoundingClientRect().top + $el.clientHeight if(productFormContainer < 0) { $refs.stickyContainer.classList.add('active'); } else { $refs.stickyContainer.classList.remove('active') } })()">
Organic Flower Compost, 40L
Incl. VAT; free
shipping
on orders over £39
Effective & sustainable

Environmentally-friendly packaging
Free shipping over £39

Built with love
Frequently bought together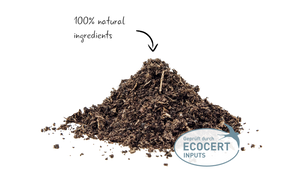 What is our compost for flowers made of?
Our organic potting soil is 100% peat-free and made exclusively from natural ingredients. For this reason, we can save up to 60% CO2 in the production of our flower soil (in comparison to conventional composts containing peat). Our compost is certified with the ECOCERT label and is composed of high-quality green compost, coir pith, wood fibres, expanded clay, calcium and magnesium fertilisers as well as some animal-free plant food.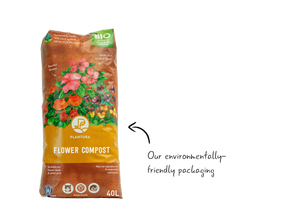 What is the packaging made of?
Sustainable packaging is important to us - we at Plantura consider plastic to be a valuable resource and are conscious of how we use and recycle it. This is why our compost bags are made of 80% recycled plastic, an environmentally-friendly alternative to conventional packaging that is certified with the Blue Angel (German ecolabel). Please recycle your compost bags when they are empty.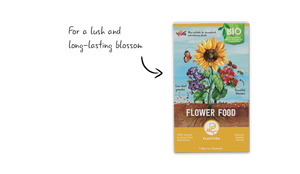 For a lush and long-lasting blossom: when should I start feeding my flowers?
Only well-nourished plants display their lush and healthy blossoms. Plantura Organic Flower Compost contains fertiliser which provides the perfect base for your flowering plants. To replenish the plants' nutrient supply (about 2 months later) we recommend using our
Plantura Flower Food
. This granular fertiliser is especially good for flower beds. For potted flowers, our
Liquid Flower Food
is the best option.
Why Plantura
We are a growing company based in Munich committed to bringing you effective and sustainable products. We stand for:
Customer centricity

High-quality products

Transparent sustainability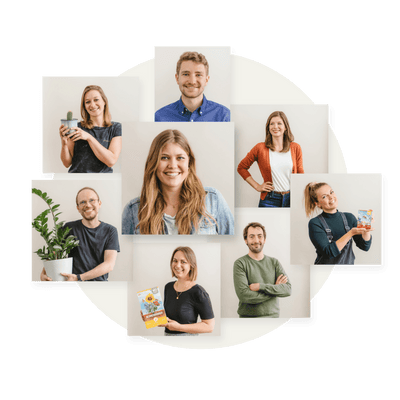 Frequently asked questions
Our Organic Flower Compost is suitable for all common flowers in garden beds and pots. The peat-free flower soil is the perfect basis for the hibiscus in your garden as well as the geraniums on your balcony. Ericaceous plants such as hydrangeas and rhododendrons, however, need a special, more acidic soil.
No, orchids have special needs and therefore require a compost that is perfectly adapted to their demands - with a high amount of bark chips and few nutrients.
With a pH of 6.0 to 7.5, our organic compost is ideal for a wide range of flowering plants. However, for rhododendrons, hydrangeas and other ericaceous plants we recommend using a compost specially adapted to their needs - these plants require a lower pH.
Yes, you should water peat-free soil a little more often, but with less water than you would use for conventional compost. The overall amount of water needed does not change. Simply water your plants when the top layers of compost feel completely dry.
Mould spores are everywhere in the air - in warm and humid conditions, mould can therefore form on any organic growing substrate. However, this type of mould is not a health hazard and also does not indicate poor quality. Temperature fluctuations during transportation and storage in particular can cause condensation in the soil bag. This promotes the germination of mould spores.
What should you do if you find mould in your compost bag? Store the compost in a drier and well-ventilated place for a while to stop the mould from spreading further. If the mould is on the soil of your potted plants, remove the layer (2 to 3cm) and dispose of it in your garden waste bin.
Fungus gnats (sciarid flies) sometimes lay their eggs in peat-free potting soils with a high content of organic matter. A fungus gnat infestation is not an indication of poor soil: on the contrary, peat-free, organic composts are more sustainable than conventional alternatives. Because of our manufacturing process itself and our strict quality controls, we can rule out an infestation during the production and subsequent storage.
The flies can, however, appear during transportation or at your home. Reduce watering for your plants and apply a thin layer of sand to the soil if you notice a fungus gnat infestation.
We not only care about the health of our native plants, but also about the peatlands and raised bogs where peat is extracted. For this reason, our compost for flowers is entirely peat-free - as opposed to conventional composts with peat. This saves up to 60% CO2 during the production process.
100%
would recommend this product
Total 5 star reviews: 1
Total 4 star reviews: 0
Total 3 star reviews: 0
Total 2 star reviews: 0
Total 1 star reviews: 0
Reviews Loaded
Reviews Added