{ let productFormContainer = $el.getBoundingClientRect().top + $el.clientHeight if(productFormContainer < 0) { $refs.stickyContainer.classList.add('active'); } else { $refs.stickyContainer.classList.remove('active') } })()">
Organic Lawn Compost, 40L
Effective & sustainable

Environmentally-friendly packaging
Free shipping over £39

Built with love
Frequently bought together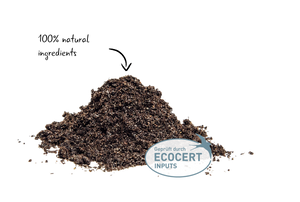 What is our compost made of?
Plantura Organic Lawn Compost is made from 100% natural ingredients, comprising a mixture of peat, coir pith, sand and high-quality green compost. It is peat-reduced, saving up to 60% CO2 during production compared to conventional lawn soils containing more peat. It also contains some calcium and magnesium fertiliser as well as a dose of animal-free plant food. Our organic compost for lawns is certified with the ECOCERT label.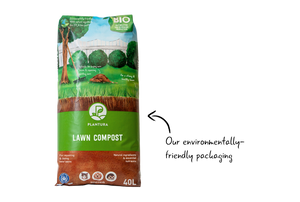 What is our compost's packaging made of?
The packaging of our Plantura composts is made of 80% recycled plastic, a sustainable alternative which has been awarded the Blue Angel (German ecolabel). We at Plantura see plastic as a very valuable raw material that should be used and reused as sensibly as possible. We therefore also ask that our customers dispose of the empty soil bags in the recycling bin.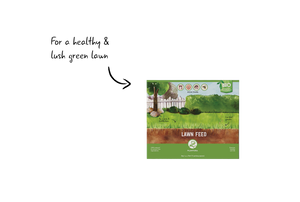 Proper lawn care for a lush green and healthy lawn:
Our Plantura Organic Lawn Compost contains fertiliser to give your grasses a boost. However, for your lawn to grow vigorously and healthily in the long term, you will need to fertilise it regularly. We recommend feeding your lawn three times a year. Our
Plantura Lawn Feed
and
Autumn Lawn Feed
are ideal for top-up and maintenance fertilisation. These provide your lawn with all the necessary nutrients for a duration of three months.
Why Plantura
We are a growing company based in Munich committed to bringing you effective and sustainable products. We stand for:
Customer centricity

High-quality products

Transparent sustainability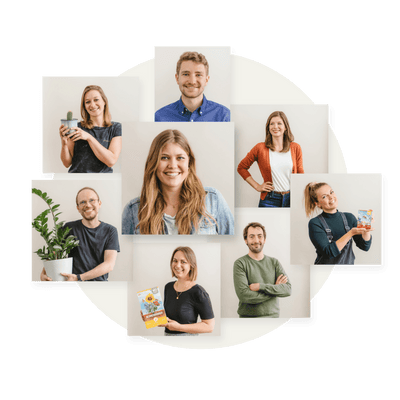 Frequently asked questions
How much of our Organic Lawn Compost you need to apply largely depends on how you want to use it. For creating new lawns, you will need a layer of compost about 1 to 2 cm thick. Here our 40l bag of compost is enough to cover an area of about 2 to 4m2. If you want to use it for reseeding, you only need to spread a thin layer over the lawn - a few millimetres are enough. In this case, one bag will be enough for about 10m2.
Plantura Organic Lawn Compost has a pH of 5.6 to 6.4 which is ideal for seeding a new lawn as well as for repairing existing lawns.
Growing grass can be a little more complicated than you might expect. We therefore recommend using a soil that has been specially adapted for lawns in order to create the perfect conditions for healthy growth.
Our Plantura Lawn Compost contains less peat than conventional lawn compost, meaning that less CO2 is produced during the manufacturing process.
Yes! Our compost is made entirely from natural ingredients and is therefore child and pet friendly. So, your furry friends are free to roam around the garden straight after application.
100%
would recommend this product
Total 5 star reviews: 2
Total 4 star reviews: 1
Total 3 star reviews: 0
Total 2 star reviews: 0
Total 1 star reviews: 0
Fine grade

This seems like good quality compost for my lawn,one thing however that I found quite disturbing was when I stick my hand in the bag and pull out some soil,I felt.something sharp,at first I thought it was perhaps a twig or such like but in fact was 2 pieces of broken brown glass..Luckily I didn't cut myself.

PU

Plantura UK

October 16, 2022

Dear Gardening Friend,
Thank you very much for your rating.

I regret that the quality of your Plantura delivery did not meet the expected requirements and that there were foreign substances in your soil. Foreign matter in particular, such as glass fragments in your case, where there is an increased risk of injury, should of course not be found in our Plantura soil and I apologise on behalf of Plantura.

As a young company, your satisfaction is a matter close to our hearts and we would therefore appreciate you messaging our customer service to coordinate a solution to this problem.

Thank you for your understanding and I hope you continue to enjoy our products.

Best wishes from Munich,
Finnja from Plantura

High quality product

Seeing good results already! The bag also holds well and is from recycled plastic.
Reviews Loaded
Reviews Added