{ let productFormContainer = $el.getBoundingClientRect().top + $el.clientHeight if(productFormContainer < 0) { $refs.stickyContainer.classList.add('active'); } else { $refs.stickyContainer.classList.remove('active') } })()">
Drought-Resistant Lawn Seed, 2kg, 80m2 coverage
Effective & sustainable

Environmentally-friendly packaging
Free shipping over £39

Built with love
Frequently bought together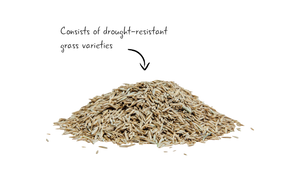 What is Plantura Drought-Resistant Lawn Seed made of?
For our sun-resistant grass seed mixture, we rely on high-quality, RSM (German standard) certified varieties. Plantura Drought-Resistant Lawn Seed contains, for example, Festuca arundinacea which is particularly drought-tolerant and Lolium perenne 'Corsica'/'New Orleans' for fast germination. On top of that, the mixture includes Poa pratensis which supports a dense and durable lawn. You can find the exact balance of seed varieties on the bottom of the packaging.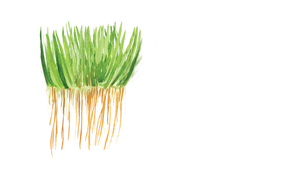 How does our lawn seed mix help save water?
The secret to our Plantura Drought-Resistant Lawn Seed lies in the selection of the right types of grass. Our seed mixture contains extremely heat-tolerant grass varieties that develop particularly deep roots. Because of this, the grasses need relatively little water and cope well with very hot, dry summers. However, after sowing you need to water the lawn daily for the first 4 weeks, otherwise the seedlings will dry out.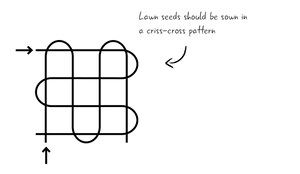 How do I sow the heat-resistant lawn seeds?
Sowing a new lawn requires some effort. Read the instructions carefully to avoid unnecessary mistakes. Remove weeds and stones from the area and work some grass fertiliser into the soil, if needed. Apply the seeds in a criss-cross pattern, by sowing half of the seed (about 12.5g/m2) from left to right and the other half from top to bottom. Cover the seed with a thin layer (0.5cm) of soil and gently tread the seed into the soil.
Why Plantura
We are a growing company based in Munich committed to bringing you effective and sustainable products. We stand for:
Customer centricity

High-quality products

Transparent sustainability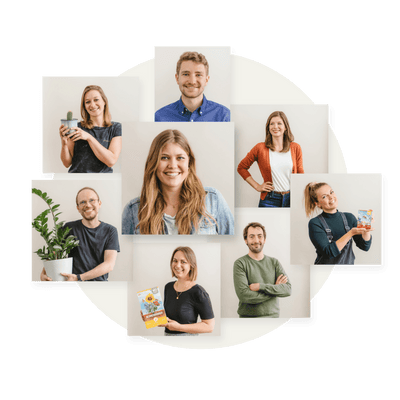 Frequently asked questions
Lightly rake the soil to prepare the area and remove weeds and stones. In order to create the best growing conditions for your grass, work some fertiliser with a long-lasting effect, such as Plantura Lawn Feed, into the soil. If the soil is extremely barren, you can also add some lawn compost before sowing, such as our Plantura Organic Lawn Compost. Our compost is rich in nutrients and improves the lawn's ability to retain water. Aside from being well-suited to the needs of young lawn grass, this compost is also peat-reduced, making it a more environmentally-friendly option.
Even if you are using drought-tolerant seeds, it is essential to water well after sowing, otherwise the seeds will not sprout. Water your freshly sown lawn daily for the first few weeks and also in longer periods of drought. Depending on the conditions, you can water your lawn 1 to 4 times per day. Tip: It is better to water several times using smaller amounts of water than too much water at once, as this could wash away the seeds. After about 3 months, it is time to apply a second dose of lawn fertiliser. Make sure to water thoroughly afterwards. Alternatively, feed your lawn on a rainy day. The water helps the soil organisms to break down the fertiliser granules to release their nutrients.
Even though our Drought-Resistant Lawn Seed requires less water than conventional lawns (due to the deep-rooted grasses), it cannot survive without water completely. After sowing, fertilisation, and in hot and dry conditions, you should water the lawn - otherwise it can get damaged.
Our Drought-Resistant Lawn Seed is particularly suitable for regions with hot and dry summers. Nevertheless, our drought-tolerant grass also works great for lawns in partial shade. If the majority of your garden lies in the shade, however, we recommend using our Plantura Shady Lawn Seed instead. In any case, make sure to only apply just one of the seed mixtures - or else you will get a patchy looking lawn.
Yes, our grass seeds for dry areas consist of 100% natural ingredients and are pet-friendly. However, we advise you to keep your animals away from the lawn straight after sowing. Freshly laid lawns are still sensitive and should be treated carefully. This also applies to children playing or other garden activities. Make sure to store the lawn seeds out of reach of your pets.
100%
would recommend this product
Total 5 star reviews: 1
Total 4 star reviews: 1
Total 3 star reviews: 0
Total 2 star reviews: 0
Total 1 star reviews: 0
Mr

Initial growth has been good but the real test will come in August if there are drought conditions.

Drought resistant lawn seeds

First class service. First consignment of seeds are already growing
Reviews Loaded
Reviews Added