{ let productFormContainer = $el.getBoundingClientRect().top + $el.clientHeight if(productFormContainer < 0) { $refs.stickyContainer.classList.add('active'); } else { $refs.stickyContainer.classList.remove('active') } })()">
Hard-Wearing Lawn Seed, 2kg, 100m2 coverage
Effective & sustainable

Environmentally-friendly packaging
Free shipping over £39

Built with love
Frequently bought together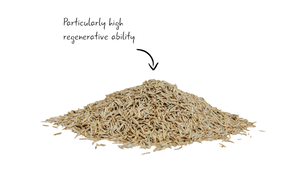 What is Plantura Hard-Wearing Lawn Seed made of?
We are exclusively using RSM (German standard) certified grass varieties. Plantura Hard-Wearing Lawn Seed contains the Lolium perenne varieties 'Corsica' and 'New Orleans' for good regeneration as well as Festuca rubra var. rubra for maximum durability. On top of that, the mixture includes Poa pratensis for healthy growth.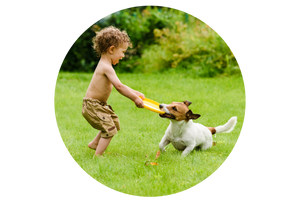 What makes our grass seed mix so durable?
High-quality, hard-wearing grass seeds are essential for tough lawns that need to perform. Our Hard-Wearing Lawn Seed has a high regenerative ability. On top of that, the seeds germinate quickly and create a particularly durable lawn in no time. The seed mixture is perfect for all gardens and can withstand football matches and other activities.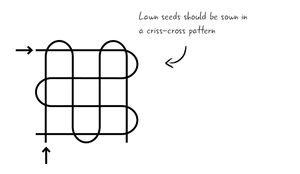 How do I sow the hard-wearing grass seeds?
It is best to distribute lawn seed with the aid of a spreader (especially for big lawns). Apply the seeds in a criss-cross pattern, by sowing half of the seed, about 10g/m
2
, from left to right and the other half from top to bottom. Alternatively, you can apply the seeds by hand. Cover the seeds with a thin layer (about 0.5cm) of soil or our
Plantura Organic Lawn Compost
and gently tread them into the ground.
Why Plantura
We are a growing company based in Munich committed to bringing you effective and sustainable products. We stand for:
Customer centricity

High-quality products

Transparent sustainability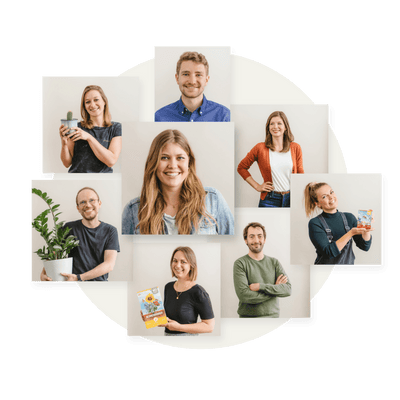 Frequently asked questions
Lightly rake the soil to prepare the area and remove any weeds or stones. We recommend working some fertiliser with a long-lasting effect, such as our Plantura Lawn Feed, into the soil to create ideal conditions for the grass seeds. If the soil is barren, you can also add our Plantura Organic Lawn Compost before sowing.
After sowing, it is important to water the lawn thoroughly every day! If the lawn dries out, the seedlings will die. So make sure to keep the area moist for the first 4 weeks. After about 3 months, you should feed your lawn, so that it stays dense and durable.
Our premium seed mixture contains high-quality grass varieties and therefore grows well in various locations and under different conditions. If you have a very shady garden, however, we recommend buying our Plantura Shady Lawn Seed.
We exclusively use high-quality seed for our Plantura Hard-Wearing Lawn Seed. Our lawn seeds' quality is continuously tested and monitored by our lawn experts. The hard-wearing grass seed mixture contains RSM (German standard) certified varieties such as Lolium perenne for fast germination and high regenerative ability (for example: 'CSI New Orleans', 'Corsica'). The seed mix also includes Festuca rubra var. rubra for a thick and lush green lawn as well as Poa pratensis for dense grass and durability (for example: 'Conni', 'Miracle'). Additionally, Plantura Hard-Wearing Lawn Seed contains Festuca rubra var. trichophylla and Festuca rubra var. commutata. You can find the exact seed ratios on the bottom of the packaging - being transparent about the contents of our products is very important to us.
Yes, our hard-wearing grass seed mix contains 100% natural ingredients and is therefore pet-friendly. In fact, our Hard-Wearing Lawn Seed is ideal for pet owners, as it creates an especially durable lawn for dogs, cats and other animals to play on. Nevertheless, make sure to store the seeds out of reach of your pets.
100%
would recommend this product
Total 5 star reviews: 1
Total 4 star reviews: 0
Total 3 star reviews: 0
Total 2 star reviews: 0
Total 1 star reviews: 0
Good value for money

Hard wearing grass seed definitely worth having with the kids playing in the garden. Couple of weeks on and the grass has started to thicken up. Good value for money!
Reviews Loaded
Reviews Added