{ let productFormContainer = $el.getBoundingClientRect().top + $el.clientHeight if(productFormContainer < 0) { $refs.stickyContainer.classList.add('active'); } else { $refs.stickyContainer.classList.remove('active') } })()">
Liquid Flower Food, 800ml
Effective & sustainable

Environmentally-friendly packaging
Free shipping over £39

Built with love
Frequently bought together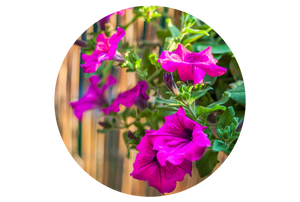 How does our houseplant fertiliser support stronger plants with lush blossoms?
In order for your flowers to develop beautiful blossoms, they need a good nutrient supply. Our Liquid Flower Food has a balanced NK ratio of 3-4 which perfectly meets your flowers' nutrient demands. It contains nitrogen for strong and lush green leaves as well as potassium to promote the plants' frost hardiness and resistance. Our fertiliser also contains microorganisms to support healthy root growth.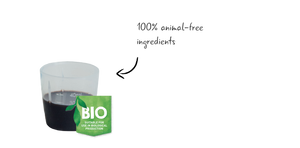 For abundant flowering: what is Plantura Liquid Flower Food made of?
Our liquid flower fertiliser is made of 100% animal-free ingredients and is therefore vegan. It is composed of vinasse, plant-derived protein hydrolysate as well as living microorganisms (Bacillus sp.), which support the development of the plants' roots. Plantura Liquid Flower Food exclusively contains raw materials that are suitable for use in biological production (EC No. 889/2008).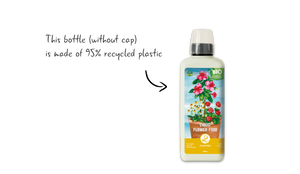 For our environment: what makes our fertiliser for flowers so sustainable?
When buying our Plantura Liquid Flower Food, you are choosing a fertiliser that is both sustainable and highly effective. The bottle of our liquid flower fertiliser (apart from the cap) consists of at least 95% recycled plastic (HDPE). Because the environment is very important to us, we put great emphasis on a resource-conserving production of our liquid fertilisers.
Why Plantura
We are a growing company based in Munich committed to bringing you effective and sustainable products. We stand for:
Customer centricity

High-quality products

Transparent sustainability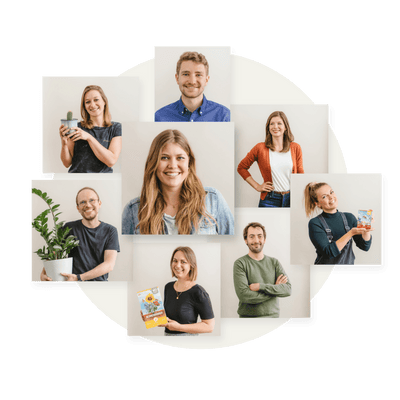 Frequently asked questions
Shake the bottle well before use and add 15 to 25ml of fertiliser to 5l of water. With the cap of the bottle you can easily measure the amount of fertiliser needed. When you water the flowers with the fertiliser mixture, the plant roots can absorb the nutrients quickly and easily.
Yes, our liquid fertiliser is pet-friendly - dogs, cats and other animals can roam around the balcony or garden straight after you have applied the fertiliser. You should still, of course, store the bottle out of reach of children and pets.
It is best to keep our fertiliser for flowers in a cool, frost-free and dry place and in its original packaging. Be sure to store the plant feed in a location that is out of reach of children and pets and close opened bottles tightly. Do not keep the fertiliser where you store food products. If stored properly, the fertiliser can be kept for several years.
You can use our liquid flower fertiliser to feed all ornamental plants. However, there are some plants that have very specific nutrient demands. Orchids, for example, are best fertilised with a special orchid fertiliser. For flowering plants in garden beds, we recommend using our granular Plantura Flower Food. It has a long-lasting effect for up to 3 months but needs to be worked into the soil for optimal results.
100%
would recommend this product
Total 5 star reviews: 1
Total 4 star reviews: 0
Total 3 star reviews: 0
Total 2 star reviews: 0
Total 1 star reviews: 0
High-quality fertiliser for my flower pots

Great product to add nutrients to my plants in an environmentally friendly way. Noticed a huge difference using this in my balcony pots. Easy to follow instructions and even better that it's safe for children and animals. Very happy with this product!
Reviews Loaded
Reviews Added