{ let productFormContainer = $el.getBoundingClientRect().top + $el.clientHeight if(productFormContainer < 0) { $refs.stickyContainer.classList.add('active'); } else { $refs.stickyContainer.classList.remove('active') } })()">
Organic Herb & Seedling Compost, 20L
Incl. VAT; free
shipping
on orders over £39
Effective & sustainable

Environmentally-friendly packaging
Free shipping over £39

Built with love
Frequently bought together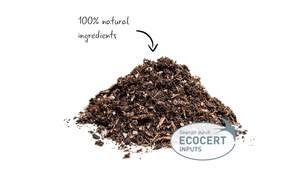 What is our compost for herbs made of?
Our herb compost contains 100% natural raw materials. Because our compost is free from peat, it saves up to 60% CO2 during production, compared to composts with peat. Plantura Herb & Seedling Compost is a mixture of coir pith, perlite and high-quality green compost. It also contains some calcium and magnesium fertiliser as well as a dose of animal-free plant food. Our organic compost is certified with the ECOCERT label.
What is the compost's packaging made of?
At Plantura, we care deeply about the environment. For this reason, we are using compost bags that are made of 80% recycled plastic. Our sustainable alternative to conventional soil bags has been awarded the Blue Angel (German ecolabel). We are asking our customers to dispose of the empty bags of our organic composts in their recycling after use.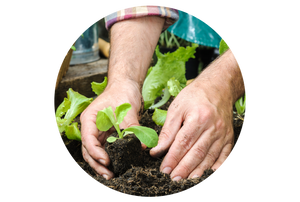 Why is the seedling compost so low in nutrients?
The more nutrients, the bigger the plants? Sounds logical, but is not necessarily the case. The low-nutrient content of this soil helps to stimulate the seedlings' root growth. Plants need to grow strong roots first in order to absorb enough nutrients from the soil. Our Plantura Organic Herb & Seedling Compost thus has a positive effect on your plants' development — for strong and healthy seedlings! Most herbs are light feeders and can stay in this soil long-term. But once your hungrier plants have passed the seedling stage, you can plant them into a more nutrient-rich compost, such as our
Plantura Organic Enriched Compost
, which is better suited to mature plants.
Why Plantura
We are a growing company based in Munich committed to bringing you effective and sustainable products. We stand for:
Customer centricity

High-quality products

Transparent sustainability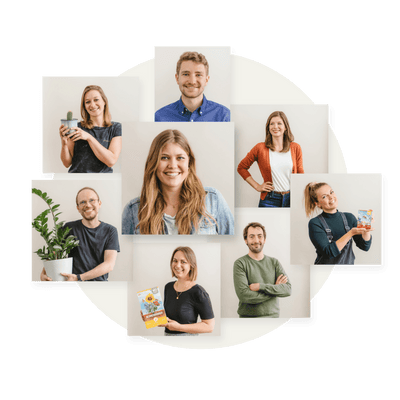 Frequently asked questions
Our organic seedling compost does not contain enough nutrients for the next stage of your plants' growth. After sowing or propagation, we recommend using one of our other organic composts which are specifically designed to meet the nutrient demands of flowers, vegetables and other types of plants.
With a pH from 6.0 to 7.5, our herb soil can be used for a variety of herbs - from lavender and thyme to rosemary and sage. Our Organic Herb & Seedling Compost can be used for pots, window boxes and garden beds. However, there are some herbs that require extra nutrients. These include basil, chives, mint and parsley. We recommend adding some fertiliser when planting these herbs or mixing in some more nutrient-rich compost such as our Plantura All Purpose Compost or the Organic Tomato & Vegetable Compost.
Our Plantura Organic Herb & Seedling Compost is perfect for seedlings and planting cuttings, as well as for aromatic herbs because it contains only a small amount of fertiliser. While your seedlings and cuttings do not need to be fed in the beginning, your herbs should be fertilised after 4 to 6 weeks. We recommend feeding your herbs with our animal-free Plantura All Purpose Plant Food which provides the plants with all essential nutrients over a period of 3 months.
Our Plantura Organic Herb & Seedling Compost has a pH of 6.0 to 7.5 and is therefore perfect for all herbs as well as for sowing, propagation, pricking out and transplanting seedlings.
Our compost for herbs is entirely peat-free. For that reason, you have to water your plants a little bit more frequently than you would with regular composts but with less water. When the top layer of soil feels dry, it is time to water your plants again.
Mould is relatively common with organic potting composts. This type of mould is not harmful to your health, though. Mould is also not a sign of bad quality. Mould spores are everywhere in the air and can affect organic growing substrates in humid and warm conditions. Temperature fluctuations during transportation and storage (leading to the formation of condensation in the bag) can result in the germination of these spores. If you spot mould on your soil, store it in a drier and well ventilated place for a while to stop it from spreading further. Remove mould on the soil of potted plants (2 to 3cm) and dispose of it in your garden waste bin or compost heap.
Fungus gnats (sciarid flies) like to lay their eggs in peat-free potting composts with a high content of organic matter. A fungus gnat infestation is therefore not a sign of poor quality. Peat-free organic soils like our Plantura Organic Herb & Seedling Compost are more sustainable than conventional soils containing peat. During our production as well as in later storing, we can rule out a fungus gnat infestation because of our strict quality controls and the production process itself.
In your home or during transportation, however, fungus gnats can infest composts. If you notice an infestation, we recommend watering your plants less and applying a thin layer of sand to the surface of the soil.
Our seedling compost is entirely free of peat. In production, we can therefore save up to 60% CO2 compared to conventional soils with peat.
100%
would recommend this product
Total 5 star reviews: 3
Total 4 star reviews: 0
Total 3 star reviews: 0
Total 2 star reviews: 0
Total 1 star reviews: 0
So far GREAT

I have only used this for potting up baby off shoots from my parent plants. It feels great and I think the babies are loving it.

Happy with it

After 7 days of sowing I can see the first leaves 👍

Lovely compost - so far so good for the plants, too

I wanted to plant some herbs with my grandson. We made a pizza with them, though it turned out he would have liked the plants either way. Anyway I got this because I didn't want to worry about what kinds of leftover chemicals or whatnot might be found in some kinds of compost I've had in the past. It was great fun and the plants seem pleased as well.
Reviews Loaded
Reviews Added