{ let productFormContainer = $el.getBoundingClientRect().top + $el.clientHeight if(productFormContainer < 0) { $refs.stickyContainer.classList.add('active'); } else { $refs.stickyContainer.classList.remove('active') } })()">
Organic Tomato & Vegetable Compost, 40L
Incl. VAT; free
shipping
on orders over £39
Effective & sustainable

Environmentally-friendly packaging
Free shipping over £39

Built with love
Frequently bought together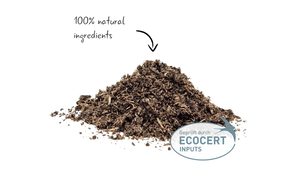 What makes our tomato compost so special?
Our compost is made of 100% natural raw materials and is entirely peat-free. As a result, it saves up to 60% of CO2 during production compared to conventional vegetable soils. Plantura Organic Tomato & Vegetable Compost contains high-quality green compost, wood fibres, coir pith and expanded clay as well as a dose of animal-free fertiliser. Our potting compost is certified with the ECOCERT label.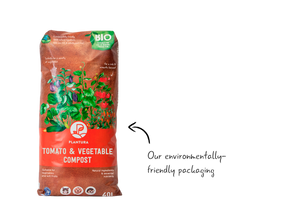 What is the packaging made of?
To us at Plantura, plastic is an extremely valuable resource that needs to be recycled properly. For this reason, our compost bags are made from 80% recycled plastic - a sustainable alternative to conventional soil bags that is certified with the Blue Angel (German ecolabel). We are also asking our customers to recycle their empty bags after use.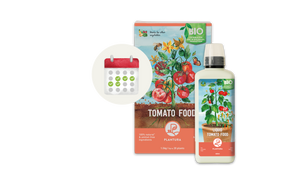 For an abundant tomato harvest: when should I feed my plants?
Tomatoes are what we call "heavy feeders" and require a lot of nutrients. Because our vegetable compost already contains fertiliser, you do not have to feed your plants for 4 to 6 weeks after planting them in our potting compost. After that, we recommend using our granular
Plantura Tomato Food
for the vegetables in your veg patch. For your potted plants, our
Liquid Tomato Food
is the best choice.
Why Plantura
We are a growing company based in Munich committed to bringing you effective and sustainable products. We stand for:
Customer centricity

High-quality products

Transparent sustainability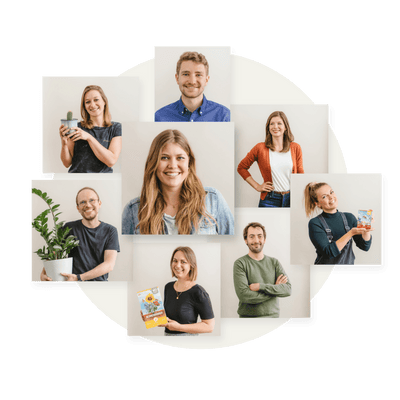 Frequently asked questions
For sowing and starting plants, we recommend using our Plantura Organic Herb & Seedling Compost, which contains fewer nutrients. When the plants are bigger and stronger, you can plant them into a more nutrient-rich compost, such as our organic vegetable compost. This is the perfect combination for an abundant and aromatic harvest.
Our organic tomato soil has a pH of 6.0 to 7.5 and is therefore perfect for vegetables and soft fruits. For blueberries and other ericaceous plants, however, you should choose a more acidic compost.
Our Organic Tomato & Vegetable Compost is peat-free. This means that your plants need to be watered slightly more often, but with less water. Water your plants whenever the top layer of soil feels dry.
Mould can occur more frequently on organic potting composts. However, this has nothing to do with the quality of the compost. This type of mould is also not a health hazard. In fact, mould spores are everywhere in the air. With the right conditions (warmth and humidity), mould can be found on any organic growing substrate. Temperature fluctuations during transportation/storage can cause condensation in the soil bag, which promotes the germination of the mould spores.
What can you do if you find mould on your compost? Put the bag in a drier and better ventilated place to prevent the mould from spreading further. If the mould is on the soil of a potted plant, remove the top layer (2 to 3cm) and dispose of it in your garden waste bin or compost heap.
The small flies are probably fungus gnats (sciarid flies) which like to lay their eggs in peat-free potting composts with a high content of organic matter. So, a fungus gnat infestation is not a sign of bad soil. Organic, peat-free composts are, of course, more sustainable and better for the environment than conventional composts containing peat. Because of our high quality standards, we can rule out that fungus gnat infestations occur during the production stage and storage of our organic composts. Fungus gnats can, however, appear during transportation or in your home. If you notice a fungus gnat infestation, water your plants less and apply a thin layer of sand to the top of the soil.
Because our organic compost for vegetables is entirely peat-free, it saves up to 60% CO2 during production (in comparison to conventional potting composts).
100%
would recommend this product
Total 5 star reviews: 4
Total 4 star reviews: 0
Total 3 star reviews: 0
Total 2 star reviews: 0
Total 1 star reviews: 0
Amazing performance

Never seen Tonatoes take off so fast as planted in this amazing mixture , will be buying again next season

Great organic compost

Great organic compost, my veggies are looking good. Would highly recommend!

Peat-free and recycled packaging

Not easy to find peat-free products, happy about this one

Nice compost, worth it for nice veg later this summer :-)

Quite nice - no plastic bits or big chunks of bark. Was able to pot all my tomatos and cucumbers with a bit left over. Well worth the price - will be buying it again next year!
Reviews Loaded
Reviews Added