{ let productFormContainer = $el.getBoundingClientRect().top + $el.clientHeight if(productFormContainer < 0) { $refs.stickyContainer.classList.add('active'); } else { $refs.stickyContainer.classList.remove('active') } })()">
Effective & sustainable

Environmentally-friendly packaging
Free shipping over £39

Built with love
Frequently bought together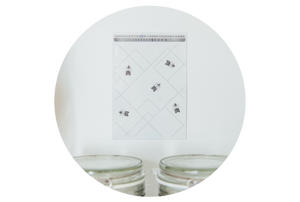 How do Plantura Pantry Moth Traps work?
Our pantry moth traps contain
pheromones
that
attract male pantry moths
. The moths then get stuck to the trap's sticky surface. Pantry moth traps are therefore great for
detecting infestations early on
. However, as the traps only attract and catch male pantry moths, the female moths can still continue to lay eggs. As a result, as soon as you detect a moth infestation, we recommend using our
Plantura Mini-Wasps against pantry moths
to successfully control pantry moths.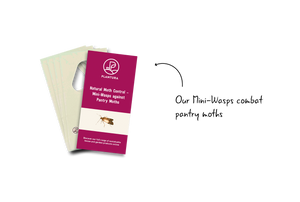 How can I effectively combat a pantry moth infestation?
Our moth traps are designed to detect new or recurring moth infestations early on. The traps are not intended to be used as a control method because they do not eliminate the root of the problem. This is why we recommend using our
Plantura Mini-Wasps against pantry moths
. Ichneumon wasps are the moths' natural enemies and they lay their eggs inside the moth eggs, preventing further moth larvae from hatching. They are therefore a natural and effective way of combating moth infestations - without the use of chemicals.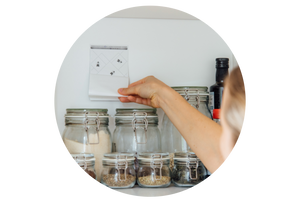 Where is the best place to set up pantry moth traps for a moth-free kitchen?
Place pantry moth traps inside of affected kitchen cupboards, away from windows or other sources of light. In the event of a heavy infestation, set up multiple traps around the kitchen or pantry. When using our pantry moth traps in combination with ichneumon wasps, keep at least 1.5 m between the traps and the ichneumon wasp cards. While the pheromones in the traps do not attract the wasps, they could accidently land on them and get stuck.
Why Plantura
We are a growing company based in Munich committed to bringing you effective and sustainable products. We stand for:
Customer centricity

High-quality products

Transparent sustainability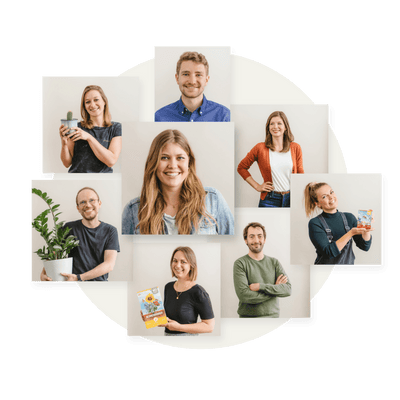 Frequently asked questions
Once opened, our Pantry Moth Traps are effective for 6 weeks. However, in the case of a heavy infestation, we recommend replacing the traps before the 6 week mark (and regularly from then on) to ensure that the male pantry moths continue to stick to the traps.
In addition to using pantry moth pheromone traps and ichneumon wasps, there are a few other precautions you can take in the event of a pantry moth infestation. We recommend thoroughly cleaning all cupboards and shelves, disposing of any dried goods that may be infested (such as muesli, flour, coffee or nuts) and decanting the contents of opened packets into airtight containers from now on. Note that pantry moths also like to infest pet food.
When you purchase our Pantry Moth Traps, we send them directly to your letterbox together with detailed instructions. We use a discreet envelope which not only saves on packaging, but also ensures the traps reach you as quickly as possible. Even if you purchase additional Plantura products as part of a bigger order, we will send the traps in a separate envelope. This way, it fits perfectly in your letterbox and will arrive sooner. Please note that we cannot send our pantry moth traps to parcel lockers.
100%
would recommend this product
Total 5 star reviews: 5
Total 4 star reviews: 1
Total 3 star reviews: 0
Total 2 star reviews: 0
Total 1 star reviews: 0
Well-designed, easy to use

The moth traps are easy to use and beautifully designed. Because food moths cause a lot of anxiety and they are not easy to eradicate, it is essential that any traps or treatments are easy to use, accessible and even fun. The brightly coloured instructions is very cheerful when you have spent hours cleaning a cupboard which you did not realise was full of moths hiding in old bags of nuts, oats and dog treats. The instructions are easy to follow and the information about moths is brief but important.

A good buy

Surprised how quickly and we'll these worked.

Moth traps

They are working well and hopefully will help to eradicate the moths from my kitchen.

Pantry moths

Excellent, happy with what they have done

Pantry moth traps

They work well and arrived quickly!
Reviews Loaded
Reviews Added