{ let productFormContainer = $el.getBoundingClientRect().top + $el.clientHeight if(productFormContainer < 0) { $refs.stickyContainer.classList.add('active'); } else { $refs.stickyContainer.classList.remove('active') } })()">
Mini-Wasps against Clothes Moths - Natural Moth Control
Incl. VAT; free
shipping
on orders over £39
Effective & sustainable

Environmentally-friendly packaging
Free shipping over £39

Built with love
Frequently bought together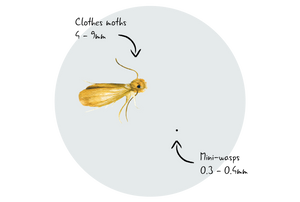 What exactly are mini-wasps?
Our mini-wasps are tiny (0.3 to 0.4mm) parasitic wasps, also known as ichneumon or trichogramma wasps, that are practically invisible to the naked eye. They are completely safe for humans and pets. Ichneumon wasps cannot fly properly and cannot sting you. Despite the name, parasitic wasps are not related to normal wasps. These little helpers are the moths' natural enemy. They combat moth infestations by parasitising the moth eggs, thereby preventing any new moths from hatching.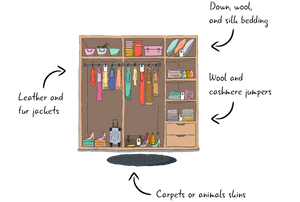 Where should I place the mini-wasp cards?
Place the cards wherever you store clothes or textiles of animal origin, including carpets, down bedding or furs, for instance. To limit the number of cards needed, it is a good idea to store all the textiles together in one place with the wasp cards. One card is enough for an area of about 1m2 or one drawer/cupboard compartment. Our mini-wasps are odourless, safe for humans and pets, and will not cause any damage to your clothing.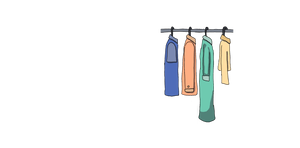 What do I need to keep in mind when combatting clothes moths?
In order for the mini-wasps to successfully combat a moth infestation, you will need to place the beneficial insects wherever infested textiles might be. Do not bend the wasp cards; simply place them at the application site. Avoid using chemical sprays before and during the use of parasitic wasps, as they can be fatal to beneficial insects. In addition to using mini-wasps, we recommend washing affected textiles at a high temperature (at least 60°C). Place sensitive fabrics made of wool in the freezer for a week to kill the moths. Thoroughly wipe down all wardrobe compartments.
Why Plantura
We are a growing company based in Munich committed to bringing you effective and sustainable products. We stand for:
Customer centricity

High-quality products

Transparent sustainability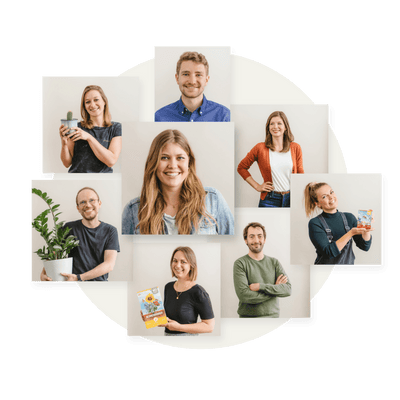 Frequently asked questions
All orders received by Sunday 10 p.m. will be shipped that Tuesday. Orders that are placed after Sunday 10 p.m. will be shipped the following week.
Note: Parasitic wasps are live products - any orders that have already been dispatched
cannot be refunded
.
Before you let the little beneficial insects get to work, we recommend thoroughly cleaning all affected cupboards and chests of drawers. Avoid using harsh chemicals, as these can also harm the beneficial wasps. Also avoid home remedies against moths, such as lavender, cedar wood or patchouli, while using the mini-wasps as they can impair the wasps' ability to do their job. Wipe down the insides of cupboards and drawers with some vinegar cleaning solution or soapy water. When doing this, make sure to get into all the nooks and crannies, like between the cupboard body and the shelves. These nooks make perfect hiding spots for pesky moths. To kill any hidden moths, use a hairdryer to apply heat to any hard-to-reach spots.
Before and during the use of the mini-wasps, we recommend treating textiles with heat or freezing them. If possible, wash smaller textiles such as clothing or pillowcases at a minimum of 60°C. This will kill the moths, their eggs and any moth caterpillars. Put more delicate fibres in the freezer for a week. The cold temperatures also kill moths. To treat larger objects such as pieces of furniture, use a hair dryer and pass slowly over the fabric.
Each card contains 2000 ichneumon wasps, each at various stages of development. By the time you receive your delivery, the first of the parasitic wasps will have just started hatching. Place the cards wherever they need to go as soon as possible after receiving them. One by one, the rest of the ichneumon wasps will hatch and seek out moth eggs to parasitise. After two weeks, you will receive the next delivery to continue combatting the moth infestation. By shipping a new batch of wasps to your door every fortnight, we guarantee the best results and the highest quality of beneficial insects.
This depends on the type and severity of the infestation. You can only officially consider yourself moth-free once the last surviving moths have laid their eggs and these have been parasitised by the mini-wasps. After this, no new moths can hatch. In the case of clothes moths, this takes about 10 to 12 weeks if the wasp cards are used correctly.
No, mini-wasps can only survive as long as there are moth eggs around for them to parasitise. Once these beneficial insects have parasitised all the eggs and thus eliminated the moths, there will be no food left for them to live off of. Due to their minute size, the wasps will literally turn to dust when they die. While the wasps are not interested in your clothing, we recommend washing all textiles at the end of the moth control to get rid of any remaining moth eggs.
Moths like to infest the following textiles:
Woollen jumpers
Silk clothing
Furs
Felts
Down
Carpets, rugs & animal skins
Old upholstered furniture filled with animal fibres
75%
would recommend this product
Total 5 star reviews: 1
Total 4 star reviews: 2
Total 3 star reviews: 0
Total 2 star reviews: 1
Total 1 star reviews: 0
Francine S.

Verified Buyer

war on moths

These are great - my moth population is decimated. The moths hatch and eat the eggs - occassionally they dont hatch so Plantura will replace. I like the repeat order every 2 weeks as its important to keep up with them. this means I will order above other brands

I do not recommend this product

Problems with timely delivery (otherwise great product)

We have had these before and they work well. They seem to be having delivery problems at present and our order remains unfulfilled after 1 week.

So far so good.

Working I think but still on course

Perfect natural method

The wasps are so small that you do not even notice them. But the effect is amazing!!! This is the remedy of choice for us from now on!
Reviews Loaded
Reviews Added