new
new
new
new
{ let productFormContainer = $el.getBoundingClientRect().top + $el.clientHeight if(productFormContainer < 0) { $refs.stickyContainer.classList.add('active'); } else { $refs.stickyContainer.classList.remove('active') } })()">
Organic Enriched Compost, 40L
Effective & sustainable

Environmentally-friendly packaging
Free shipping over £39

Built with love
Frequently bought together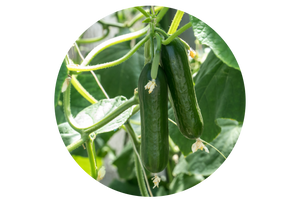 What are the benefits of using enriched compost?
Our enriched compost has a high humus content, which fosters a healthy and active soil life and keeps the soil fertile for a long time. It also significantly improves the soil's water and heat balance, resulting in an abundant harvest and splendid blooms. Our peat-free enriched compost also contains 60% compost, ensuring healthy root growth and strong plants.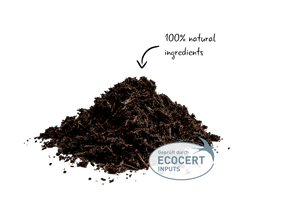 What is Plantura Enriched Compost made of?
Our organic compost is completely peat-free and consists of 100% natural raw materials. As a result, it produces up to 30% less CO2 during production than conventional composts that contain peat. Our growing medium consists of 60% compost and is pre-fertilised, providing optimal conditions for heavy feeders to thrive.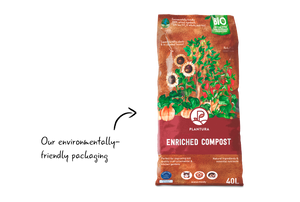 What is the packaging made of?
All of our composts come in Blue Angel (German eco-label) certified packaging made of 80% environmentally-friendly recycled plastic known as recyclate. At Plantura, we believe that plastic is an extremely valuable raw material that should be recycled whenever possible. We thus ask that you put the empty bags in your recycling bin or take them to your local plastic recycling centre or collection facility.
Why Plantura
We are a growing company based in Munich committed to bringing you effective and sustainable products. We stand for:
Customer centricity

High-quality products

Transparent sustainability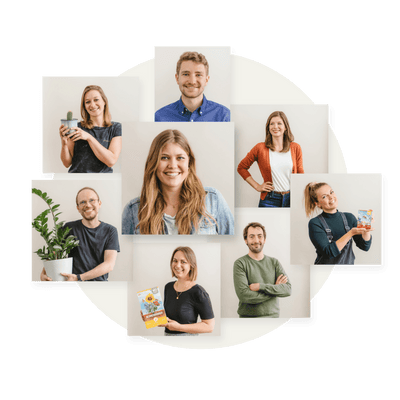 Frequently asked questions
For sowing and starting plants, we recommend using a low-nutrient substrate, such as our Plantura Organic Herb & Seedling Compost. Our seedling compost is a lot looser, which encourages root growth in young seedlings. Once the plants are a little bigger, you can transplant them into a more nutrient-rich compost like this enriched compost. You will be well on your way to an abundant and aromatic harvest if you use both Plantura Herb & Seedling Compost and Plantura Enriched Compost.
Our pre-fertilised enriched compost is high in nutrients, making it ideal for heavy feeders. Apply fertiliser about 2 months after planting or transplanting to top up and maintain a good supply of nutrients. For high potassium vegetable plants, we recommend using our slow-release Plantura Tomato Food. Our Plantura All Purpose Plant Food is ideal for all other plants.
With a pH range of 6.5 to 7.3, our enriched compost is excellent for growing all crops and ornamental plants. Only acid-loving plants, such as hydrangeas, rhododendrons, azaleas and blueberry bushes, require a special low pH compost like our Plantura Organic Ericaceous Compost.
Our enriched compost is completely peat-free for the sake of the environment. As a result, you will need to water your plants a little more frequently, but with less water. Water your plants as soon as the top layer of soil feels dry.
Sometimes mould may start to grow on organic compost. However, this is not a sign of a poor quality compost and poses no risk to your health. Mould spores are present in the air all around us, so it is possible for mould to start growing on any organic planting medium, especially in warm or humid conditions. Temperature fluctuations, for example, during storage or transportation, can cause condensation, creating an ideal moist environment for mould to grow in.
So, what should you do if you find mould in your compost bag? Simply store the soil in a dry and well-ventilated place for the time being to prevent the mould from spreading any further. If mould develops on the topsoil of your potted plants, remove the first 2 to 3cm and dispose of it in your organic waste or compost bin.
The small black flies that we often see flying around plants are usually fungus gnats. They like to lay their eggs in peat-free organic soils with a high proportion of organic matter – like our organic enriched compost. This does not imply that the soil is of poor quality in any way. On the contrary, peat-free organic composts are more sustainable and thus better for the environment than conventional soils containing peat.
So, where do these fungus gnats come from? We are able to guarantee that no fungus gnats infest our organic soils during production or storage by employing quality control procedures as well as the production process itself. However, these tiny flies are able to fly in during transport or once the product is in your home. If you find fungus gnats infesting your plants, we advise watering them less for the time being and spreading a thin layer of sand on top of the soil.
Our enriched compost is completely peat-free. It therefore produces up to 30% less CO2 during production than conventional composts that contain peat. When left alone, peatlands serve as carbon sinks, storing CO2. However, when harvested, peat releases large amounts of CO2 into the atmosphere, contributing to climate change. In the UK alone, an estimated 2 to 3.5 million cubic metres of peat are used for horticultural purposes every year. At Plantura, we believe it is critical to protect peatlands, which is why we refrain from using peat whenever possible.
100%
would recommend this product
Total 5 star reviews: 1
Total 4 star reviews: 0
Total 3 star reviews: 0
Total 2 star reviews: 0
Total 1 star reviews: 0
Recommend this brand

I wanted peat-free compost & the cute packaging doesn't hurt :)
Reviews Loaded
Reviews Added