bestseller
bestseller
bestseller
bestseller
{ let productFormContainer = $el.getBoundingClientRect().top + $el.clientHeight if(productFormContainer < 0) { $refs.stickyContainer.classList.add('active'); } else { $refs.stickyContainer.classList.remove('active') } })()">
Effective & sustainable

Environmentally-friendly packaging
Free shipping over £39

Built with love
Frequently bought together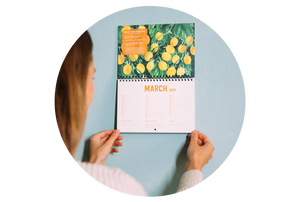 What seeds are included with the Plantura Plantable Calendar?
Our Plantable Calendar includes 12 sheets of seed paper with an exciting and easy-to-grow plant for each month. The organic seeds are embedded into 100% recycled paper with beautiful hand-drawn illustrations and can be found at the back of the calendar. You will find some classics like chillies and tomatoes, plus rocket, basil, aubergines, poppies, delphiniums* and many more. A great way to get into gardening or to to add some new colourful plants to your collection and a fun activity for the whole family!
*Please note: delphiniums and their seeds are poisonous and not for consumption.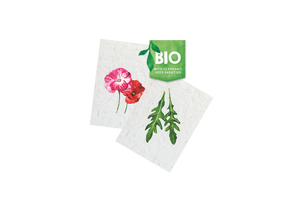 How do you sow the seeds in the plantable paper?
For every sheet of seed paper there are
easy-to-follow instructions
in the calendar. You can also sign up for our online course and get a handy email each month with more detailed information about that month's seeds and how to sow them. Each plant is different. Sometimes it's good to tear the paper, others can be planted whole. Some need light to germinate and others should be covered with soil. We recommend using a specialised compost, like our
Plantura Organic Herb & Seedling Compost
. After planting, the seeds should be kept moist. After a
couple of weeks
, the paper will biodegrade and the seeds will start to sprout!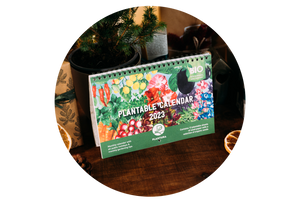 What makes the plantable calendar a popular sustainable gift choice?
Sustainability is one of our number one values at Plantura. Our Plantable Calendar for 2023 is certified by the FSC and by EU Ecolabel. The plantable seed paper is made from 100% recycled paper and contains organic seeds. On top of this, we use 100% plastic-free packaging to ensure that the calendar is a great sustainable gift idea for adults and children alike.
Why Plantura
We are a growing company based in Munich committed to bringing you effective and sustainable products. We stand for:
Customer centricity

High-quality products

Transparent sustainability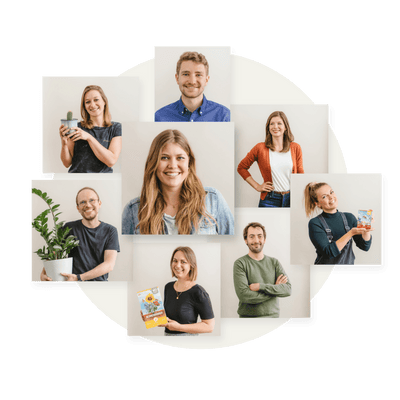 Frequently asked questions
Some of the plants need to be pricked out and others can be planted directly in a garden bed or plant pot. You will find dedicated instructions for each plant in the calendar. When you buy our Plantable Calendar, you also get access to a free online course with monthly emails which you will receive on the first day of each month, detailing how to sow that month's seeds.
No, the calendar month pages are separate, so these will stay intact. The plantable sheets are at the back of the calendar and are easy to remove without losing any important birthdays or appointments in the process.
Our Plantable Calendar comes in a handy A5 format (14.8 x 21cm). When hanging up on the wall, it is A4 sized (29.7 x 21cm).
As long as the plantable seed paper is kept in a cool and dry place, the seeds should keep for around 2 years. However, we recommend planting them in the next planting season.
We post our calendars in a plastic-free envelope which should fit through most letter boxes comfortably.
80%
would recommend this product
Total 5 star reviews: 75
Total 4 star reviews: 15
Total 3 star reviews: 6
Total 2 star reviews: 7
Total 1 star reviews: 9
Beautiful gift

I love this seed calendar, it comes with an exciting surprise each month, is educational and very beautifully done!

Nice calendar but lacking quality instructions

I had to find other resources in order for me to be able to properly sow and plant the seeds. It would've helped if the instructions would've been easier to find and more detailed.

I bought cardboard sowing containers which were a huge disappointment. Then I tried plastic trays that gave a better result but what really worked is sowing in dark on wet cotton before moving them to trays.

You missed an opportunity here to help me in my gardening journey and I saw you were trying to sell bags of soil before helping me understand and learn how to sow.

Also the sowing times is confusing as it gives you seeds in january that "sprout after two weeks" but cannot be planted until march? It's confusing... There's a good missed opportunity here to have a useful product and get people actually buying your gardening tools if you actually help them

Beautiful quality and very informative.

The calendar has a high quality to its layout and design. It is very informative for gardeners explaining a little about the plant they are about to plant, options of sowing, spacing, germination and harvesting. The seed paper is pristine and preserved perfectly. 5 stars for satisfaction.

Value

Good value for money, looking forward to planting the seeds ,

Plantable calendar

I think it's ok!! I bought it as a Christmas gift
Reviews Loaded
Reviews Added